Open House Dec 2 2023 Magnuson Park Studio Bldg 30 West #205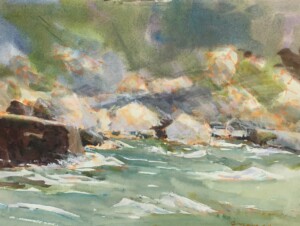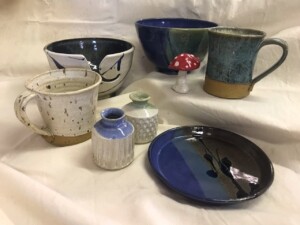 Holiday Open House at the Studio Building!  Paintings and Pottery. 7448 63rd Ave NE, Seattle WA 98115
River paintings, Pea Patch Paintings, Judy Rouse Pottery and Robin's Carrot Cake
All 30 artists studios will be open 12-4pm on Saturday Dec 2. Hope to see you!
B30W Open Art Studios
Workshops Winter 2024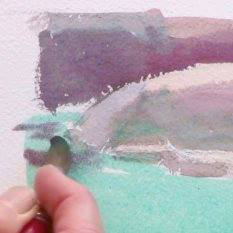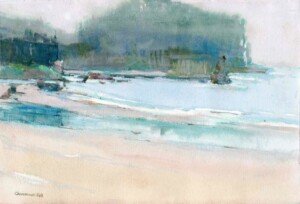 Northwind Art  Port Townsend WA
February 24 & 25  Color Mixing In Watercolor
March 23 & 24 Landscapes in Chalk Pastel (Ooze) and Watercolor
Register:  https://northwindart.org/collections/courses
Open House at New Studio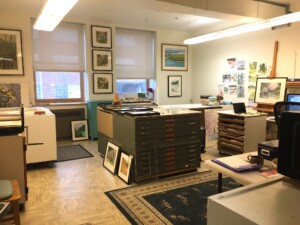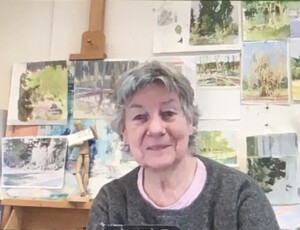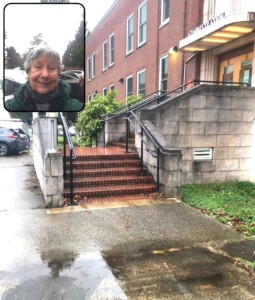 Saturday June 17, 2023  12-4pm
Building 30W #205
7448 63rd Ave NE. Seattle, WA 98115
Come see my new space, new art, and visit 20+ other artists' studios.
B30W Open Art Studios  to see list of other participating artists. Hope to see you!
NEW MAY/JUNE 2023 WORKSHOPS:
www.catherinegill.com   Workshops
Online May 16/23,  and In Person June 3.
Register online,  Info [email protected]

Studio Move Ballard to Magnuson Park. Oct-Dec 2022
After 14 years in Ballard, I moved studios – to Studio Building 30 West in Magnuson Park. Downsized, culled, whined, hauled, and with a lot of help from family and friends, I'm here! It's closer to home, in a 350 acre park, in a historic building with 30 artist studios, and outside: brick and metal buildings from its former days of being a Seattle Naval Station(shapes!), trails, wetlands, community garden (colors!) – all to paint by just walking out the door. I can hardly believe my good fortune.  Come and visit, there are 2 annual Open Houses coming up, click 'What's New' and 'Studio' for more information.
Road Trip / Workshop Boulder CO  Sept 2022
An on location workshop away means one thing: Road Trip!!!
 
A group of Boulder artists invited me to teach a 3 day workshop, In And Out, in this amazingly
beautiful place that I had never been. I decided to drive, 4 days through OR, ID, WY and CO.
The landscape was captivating, new shapes, new colors, and I stopped every day to do a little painting sketch. A
good painting friend flew down to meet me after the workshop, and we painted til we
dropped, there and all the way home. El Dorado Canyon, I hope I meet you again!
Sketch Day in Skykomish WA    Aug 5 2022
Meet in town of Skykomish at SkyWorks Gallery, 11-1pm.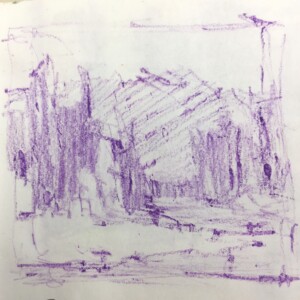 Enjoy a few hours of sketching/drawing in town or by Maloney Creek a short walk away.
All ages/skill levels welcome! Bring your sketch books and pencils, and some will be provided.
Hope to see you! Cathe
Exhibits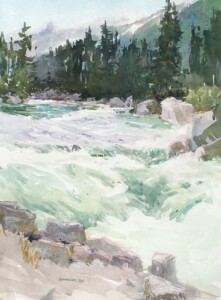 Plein Air Views of Washington
May 11-June 17 2023.
Magnuson Park Gallery at SPACE Bldg 30W
https://www.spaceatmagnuson.org/
7448 63rd Ave NE, Seattle WA 98115
Group Exhibition in partnership with PAWA (PleinAir WA Artists)
Thurs/Fri 11-3p. Sat 12-3p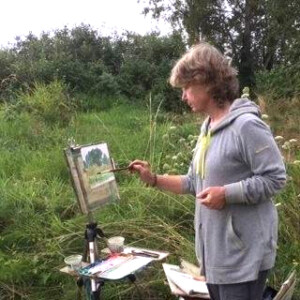 June 3 2023 PAINT OUT
Magnuson Park 9-3pm
Wet Works Exhibit 3-6pm
Reception 4pm Officers Club
Bldg 30W Magnuson Gallery
7448 63rd Ave NE, Seattle, WA 98115
LITERACY SOURCE  Learning Center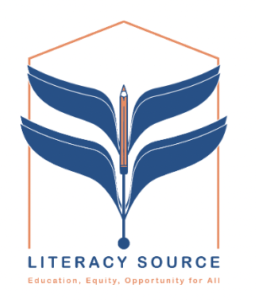 3200 NE 125th St, Seattle, WA 98125  Lake City

Feb-June 2023 Catherine Gill
Exhibit 12 Paintings
June-Sept 2023. Eileen McMackin
Exhibit 12 paintings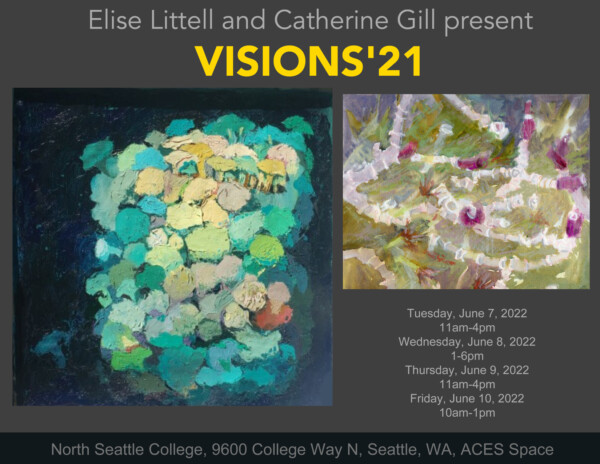 Visions'21   Exhibit North Seattle College, Seattle WAJune 2022
https://northseattle.edu › map
Hours: Tuesday 1-6pm, Wed 1-6pm, Thursday 11-4pm, Friday 10-1pm
Catherine Gill and Elise Littell will be exhibiting oceanography artwork from the UW's Visions'21 cruise, created aboard the R/V Thompson and afterwards.
Sky Artworks  July/August 2022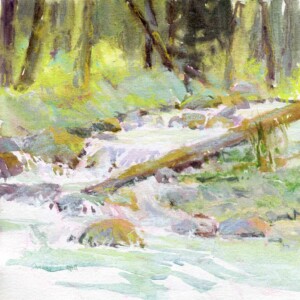 https://www.skyartworks.org
"Summer Reflections"
With Anita Lehman and Genevieve Tremblay
Opening July 1, 4-7pm