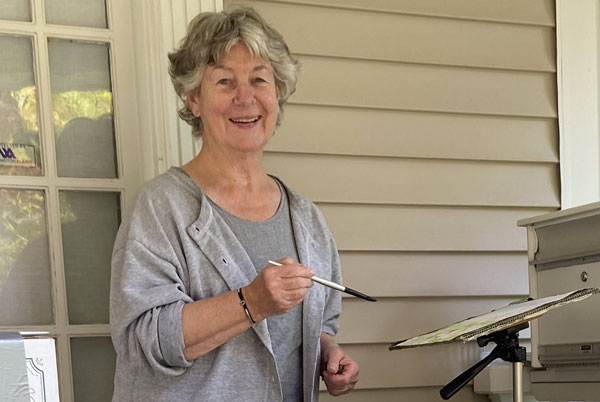 Catherine Gill lives her life as an artist in a way that is exciting, challenging, sometimes balanced and always fun. Her energies all go into finding new ways to be creative in her artwork and in her teaching. Catherine lives in the Pacific Northwest for over 30 years, painting and teaching on location in mixed media, in watercolor, oil, pastel, and is a printmaker. Her classrooms include homeless shelters, museums, art centers, studios, beaches, parking lots, boats, kayaks and forests, and lately Zoom rooms in her Ballard studio in Seattle WA.
Catherine teaches painting and printmaking locally as well as throughout the United States and worldwide. Her artwork and current list of workshops and videos can be viewed on www.catherinegill.com. Her artwork has been exhibited nationally and throughout the world.
Catherine is co-founder of Art Partners International, dedicated to bringing together artists and art of different cultures. She is a member of Northwest Watercolor Society, Women Painters of Washington, Plein Aire Painters of Washington, Seattle CoArts, Seattle Print Arts and Print Arts NW.
Her book on landscape painting, Powerful Watercolor Landscapes, with writer Beth Means, was released by Northlight/F&W Publications January 2011. Penguin Random House now carries the EBook version of 'Powerful Watercolor Landscapes' . Printed books are currently out of stock. Her work can also be found in Art Journey America: Landscapes (F&W) Kipp , December 2011; and recently a 9 page article on plein aire painting in Watercolor Artist Magazine, June 2018.